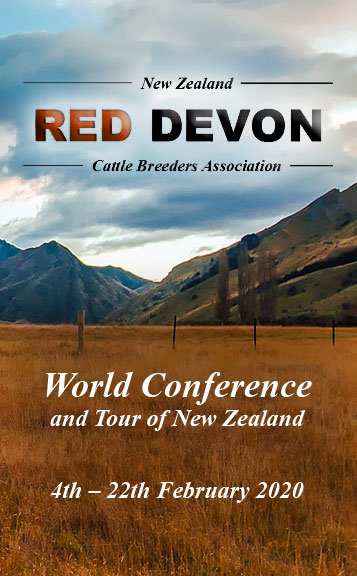 The tour starts in Wellington with a welcome dinner on the evening of Tuesday 4th February. We will travel through many regions of the North Island visiting well known and new studs. Our conference day is Sunday 9th February in Hamilton. Then continuing north to our most northerly stud. We have a great mix of cattle, people, places and activities. The World Conference Tour concludes in Auckland on Sunday 16th February and for those who would like to explore the magnificent South Island a new adventure begins.
 
 
Red Devon World Conference Tour Itinerary. 4th to 16th February 2020
 
Red Devon South Island Tour Itinerary. 16th to 22nd February 2020 (Optional)
 
 
We do require minimum numbers for both the World Conference Tour and the South Island Tour.
For any additional questions, please contact Karen Schumacher, NZRDCBA President.