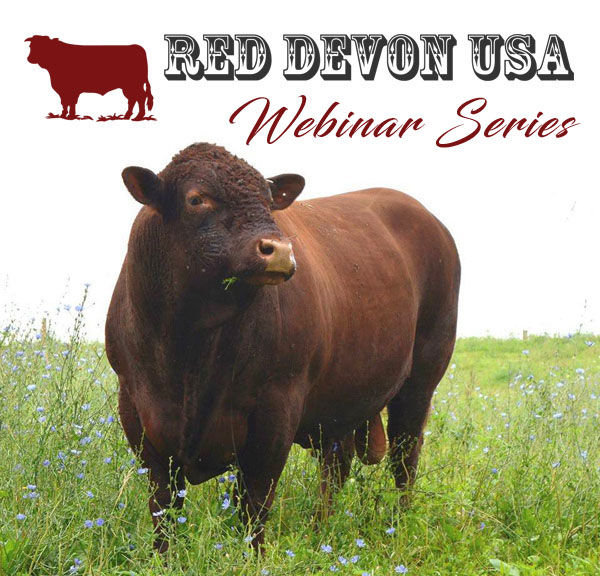 Red Devon USA
          Fall 2021 Webinar Series



Did you miss the live event?
No problem! Red Devon USA is offering a unique opportunity to all of its members. You can still view the webinar series after the event! Simply sign up, using the registration links below, and for a limited time, we will give you access to the recorded versions of the event. Please keep in mind, however, this is only for a limited time. So sign up now!
Please contact Red Devon USA for session recordings.
Tuesday October 5, 2021 @ 7 pm EST
"Selling retail at Farm Stores and Farmer's Markets." – this webinar will be moderated by A.J. O'Neil of O'Neil's Quality Devons and guest speakers are panelist Christian Ramsburg (Harmon Creek Farms), Brad Gibson (Opoma Farms), and Fernando Mendez (Marview Farms). Each panelist will discuss marketing strategies, products available, specialty products, and best sellers. What makes each of them different.
October 12, 2021 @ 7pm EST
"Genetics & Bloodlines of foundational Red Devons" – Jeremy Engh, of Lakota Ranch will moderate, Jerry Engh of Lakota Ranch & special quest, Vic Edwards from Australia (world's premier cattle expert) will recall some of the foundational Red Devons herds were built on in USA.
Tuesday October 26, 2021 7 pm EST
"Evalutating a Bull calf at Weaning" – Jeremy Engh, owner of Lakota Farms and Lakota Bull Test. Jeremy's Bull test is a post weaning grass performance evaluation for beef sires of all breeds. We turn to Jeremy to help us know what we should look for in bull calves at weaning. What traits should we look for if our bull is to be a top performer in the Lakota bull test.
Come support the Red Devon Association, as we build the breed for the future, through education.
* Please supply us with your preferred mailing address, so we can get you a copy of the latest Soil Health Resource Guide, provided by Green Cover Seed!