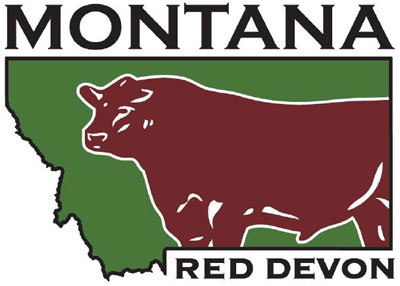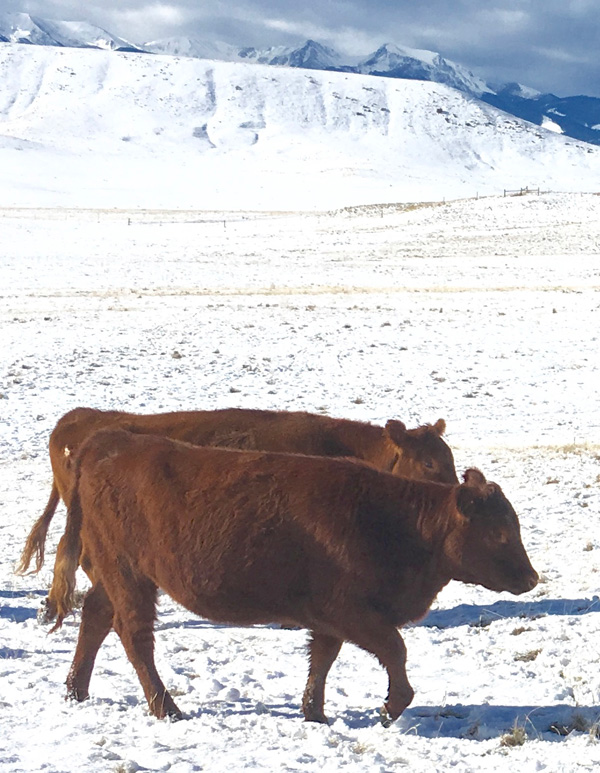 Montana Red Devon breeds hardy, fertile, docile Devons raised at 5000' elevation. The majority of summer grazing at the ranch is on open dryland pastures, so Montana Red Devon must be animals that can thrive in high heat, low humidity, and lack of shade. Winters are dry and often windy with little shelter, so cattle must thrive in both extremes of temperatures.
Breeder and owner Jenny Kahrl selects only those animals that have excellent conformation, with heifers that mature within 15-18 months, exhibit good mothering, raise sturdy efficient calves, and breed back dependably. Bulls are selected for forage efficient conformation and easy fleshing, are tested for soundness and high fertility as yearlings, and kept as breeding animals only if they also show high docility.
Montana Red Devon (MRD) sells grass fed/grass finished beef by the Mixed Quarter, and also sells whole animals to Daniels Gourmet Meat and Sausage in Bozeman, MT, where customers can purchase gourmet Devon beef by the steak or the box. MRD sells semen, registered and commercial Devon bulls, registered Devon and Devon influence females, and yearling steers for other finishing producers. Jenny Kahrl also offers consulting in breeding and beef finishing techniques.