World Devon Mini Congress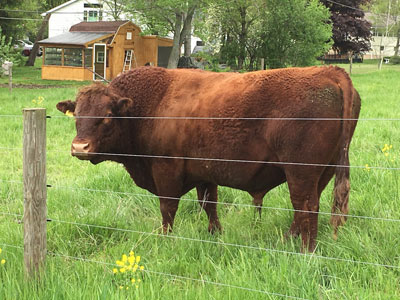 The World Devon Mini Congress was hosted in the United States from May 20th through May 2 8th. Devon breeders from Great Britain, New Zealand, Australia, Brazil, ,Argentina and Canada arrived in Virginia for the tour. Jeremy, Jill, Patty, and Jerry Engh at Lakota Ranch hosted the first full-day featuring their main breeding herd of 150 purebred females with calves on the ground from Lakota's King Henry and production from Lakota's Rumble, 2017 national grand champion, owned by Bob and Ty Roberts, and former forage bull test champions Tapuwae W36 and Lakota'sT-bone. Chef AJ O'neil prepared delicious barbecue for lunch and Chef Laura Ploeger prepared shishkabob for the evening gourmet.
The following morning we arrived at Stratford Hall, the historic home of Robert E. Lee, and toured a herd of older horned Devon females with calves at side by Arthur Beazley 's Tapuwae bull. On the third day, host Matt Rales and Abby Fuller of APD Farm, gave an in-depth presentation on the benefits of intensive grazing management with a demonstration of how they manage and moved their herds once or twice every day. The National Devon show also held at APD farm saw Lakota's Red Dude win grand champion bull and Cathy Cockrin's bred heifer, Oak Hill CY28, sired by Tiranna W120, who took grand champion female. Breeders from Brazil and Australia verbalized their plan to purchase semen from Red Dude and 2016 grand champion bull, Lakota's King Henry.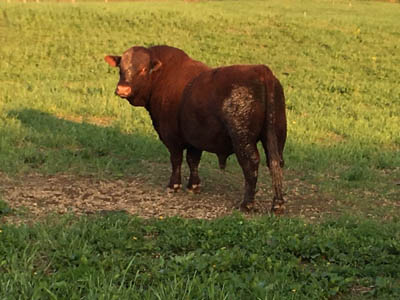 The next stop was in Pennsylvania to see exceptional females with calves at side at Bob VanKirk's 4 Seasons Farm. Calves observed offered diverse genetic lines including Page Road Farm Pete, Tapuwae, Rotokawa, Te Maewa, Adventureland, Keystone, Applewood Farm Josh, and Lakota. Senior Bulls on display were Adventure Reuben, a Rotokawa 667 son, and 4 Seasons Ace, a Tapuwae 635 son. 2 year old Graduates of the Lakota all-forage bull test were observed. Lunch by Rollin Smoke Barbecue included Devon Tenderloin & Devon boneless Rib Roast. Due to time constraints, we skipped viewing the main herd of 100 Devon females with young calves; at a rental farm, we toured 110 feeder and stocker Devons and Devon crossbred cattle. The next stop was north in Pennsylvania to see more exceptional females with calves at George Kepple's, Kittaning Hollow Farm.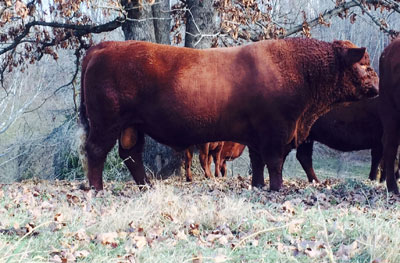 We then ventured into Ohio to Steve Montgomery's Lamppost Farm, a 501(c)3 organization that uses agriculture to reach and teach people, featuring holistic farming of Devon cattle with sheep, hogs, and poultry and a spectacular barbeque prepared by renowned chef Jeremy Umansky, from a 16-year-old Devon cow. We attended a professional baseball game in Pittsburgh's PNC Park, before flying to Montana.
Arriving in the early evening, we toured Jenny Kharl's abattoir where she custom process beeves and hogs for local ranches. Montana Big Sky Country was spectacular, with beautiful weather as we toured Jenny's 7,000 acre ranch. The highlight was the quality of Jenny's Devon's and also Scott Brady's young Devon herd, plus visiting a buffalo jump, where Native Americans would herd buffalo over a cliff as a mechanism to slaughter the beasts. Back at the ranch we met new Devon breeders from Nevada, USA and Alberta, Canada at an evening meal with Devon beef from Jenny's abattoir, prepared by guest Chef Melissa Harrison. The last stop was to Yellowstone Park, one of the great wonders of the world with magnificent glaciers, waterfalls, and wildlife.
All in all, the World Devon Mini Congress was a great prelude to the World Devon Congress to be held in 2020.
Jerry Engh, Lakota Ranch
Bob VanKirk, 4 Seasons Farm