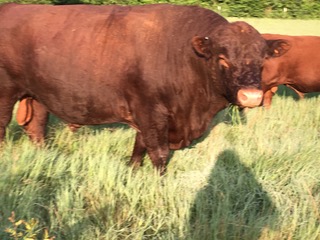 Lindley Organic Farm is a 6th generation, 120+ year-old family farm. It is located halfway between Dallas, TX and Shreveport, LA in the East TX community of Hainesville. Pam is a CN and GAPS Practitioner. Seeing a need for healthy traditional foods, she and John bought the farm to produce those foods for their family and to sell the excess. After finding an 1860's book titled How to Make the Farm Pay, that rated all the cattle breeds, they chose Devon Cattle for their farm. In the book, the author wrote, "The Devon is naturally medium as a dairy cow, giving a fair quantity of very rich milk…….. As a beef animal, the Devon is first class. He fats readily, has compact bones and therefore small amount of waste and the flesh is of the finest quality and well laid on." Since the Devon's offered both milk and beef, they bought their first Devon's in 2005.
"In 2009 at the NADA Conference, Teddy Gentry and his assistant conducted a Tender Beef Contest using the Warner-Bratzler Shear Force machine. All members who
wanted to participate brought the same cut of frozen Devon Beef. It was thawed, cooked and tested. I was surprised when our beef won the contest. It tested 2.43. I had no clue what the number meant till Mr. Ridge Shinn told me, that day, this is what you need to know, the lower the number the more tender the beef. He also said restaurants only required a 4."
- Pam


What We Offer –
100% Grass-fed Registered Devon's in a closed herd, fed on organic pastures. Every animal we sell is born on our farm. They are raised
with no grains, no GMO's, no vaccines, no hormones, no antibiotics, no animal byproducts, no commercial wormers and no soy.
We have Rotokawa, and American Genetics. Some of our Devon's are Registered with both RDUSA and AMDA.
We sell Open Heifers, Bred Heifers, Bred Cows, and Bred Cow with a Calf at her side. We also sell A2-A2 Bulls, Females and have A2-A2
Semen from our Polled Herd Bull.
We sell our 100% Grass-fed Beef by the cut at our farm. We also offer Devon Custom Cut Beef Quarters, Halves and Whole Animal.