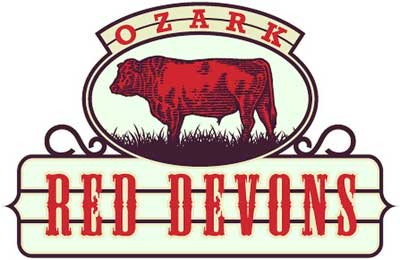 The Robertson family has been in the cattle business for a total of nearly 20 years and currently has three generations joining in on the fun.  What began as a hobby in the 80s and 90s, became more of a family staple in 2005 with Black and Red Angus.  It was in 2008 that the family realized the potential of Red Devons and became 100% committed to breeding and promoting the superior attributes of the breed. Parents Bob & Lana, five brothers, their spouses and a total of 12 little ones (ages 1 to 25) all pitch in to keep the ranch running.  Brothers Ty and Mikey can usually both be found at the ranch on any given day.  Ty has been working the ranch and cattle full-time for about a decade and spends his time managing daily operations and communication.  Mikey has been heavily involved for about a year, and brings a background in processes and sales that he's been able to effectively transition into the ranch and cattle business.  
The Robertson family and staff manages a 1600 acre ranch located in the heart of the Ozarks, just south of Branson on the Missouri and Arkansas line.  This location creates the perfect hub for the mid-west and southern regions of the US.   The cattle are naturally raised, fed and finished on grass alone, and never receiving any growth or supplemental hormones.  The family emphasizes creating healthy soil and pastures through intense rotational grazing techniques.
The herd runs between 400 and 500 cattle, an equal amount of both commercial and registered Red Devons. The cattle are prized for their award winning, high-quality genetics and have a variety of champion bloodlines represented.  2017 accolades alone include; National Grand & Reserve Champion Bulls, Reserve Champion Female and numerous other categories with 1st, 2nd and 3rd place awards. As the demand for Devon cattle and Devon-cross cattle continues to increase, this herd is an excellent choice for crossbreeding as it possess many good attributes to help overcome weaknesses in other herds and breeds.  Whether it is cow/calf pairs, replacement animals or bull semen, this herd offers the full spectrum of quality Red Devon options.