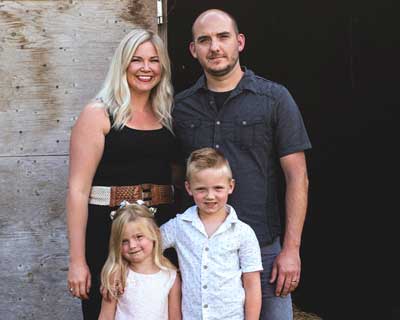 Over the past several years I have been working towards becoming a full time farmer and as of April 1st 2018 I made the switch. At 33 years old I had spent the first 15 years of my working life focused on the electronics industry but after marrying in 2010, my passions shifted to the farm life and raising cattle. My In-laws John and Connie Moelker run a certified organic crop farm as well as pasture a mixture of pure bred Red Devon and Devon cross cattle. My wife, Rachel, our two children Ezekiel and Hallie and myself, now live on the farm and have a pure bred herd of our own. I grew up in a small community of less than 200 people, roughly an hour north of where we now live. During my childhood my parents owned a restaurant where I spent a lot of my time helping out, this coupled with my time spent working for my most recent employer has made me become deeply engrained with a "support local" attitude. My first years of helping on the farm I watched as John and Connie brought some of our first Devons to our herd with the intent of building a docile herd of cattle with the ability to finish on grass. Some 5 years later we have expanded our goals to become a complete herd of Red Devon with ambitions of marketing these cattle across Canada. We intend to breed for diversity and focus on small framed old North American Genetics. We have imported cattle from Adventureland, Thistle Hill, 4 Seasons Farm and most recently Lakota Ranch. While I settle in to a new life of learning to farm, I will continue to focus on the branding of our farm, Red Devon cattle and Grass finished genetics in Canada.
My name is Anthony O'Neil, I grew up in the meat industry. My grandfather owned and ran a dairy farm all his life, until he got older and switched to beef cows. My father worked at a slaughter physicality before deciding to open his own meat processing store called O'Neil's Quality Foods. My parents have owned the business since 1989 and I have played a major role in the last 16 years. I work with the public daily and enjoy helping local farmers continue to develop better carcasses for their beef herd. I also specialize in finer processed meats. I am in charge of making over 50 different flavors and types of fully cooked, ready to eat products. I am a member of the Pennsylvania Association of Meat Processors (PAMP). My father and I attend annual meetings at Penn State where they have seminars specifically geared toward processing meats. We have won several awards at this show with our Homemade Snack Sticks, Lunch Meats, Sausages, and Venison products.
I started raising cattle for our store in 2013. Now we continuously sell my homegrown Devon meat through the store. My father saw there was a void in locally raised quality beef, and he was beyond pleased with the quality of Devon beef. I am one of the only Devon breeders within a 50-100 miles radius, and I am very excited to show fellow farmers what the Devon breed has to offer.
My passion is in the grass-fed beef industry, and my focus in the last several months has been searching for a meat research project. I am confident that grass fed beef is the direction that will help the beef industry move forward for many generations to come. There is a plethora of health benefits to eating grass fed beef, and in particular, Devon beef. This is why I am exploring test options, so we can show others in the beef industry what Devon beef can really offer. Since my passion and life's work surround the Devon breed, I am excited and humbled to run for a position on the Board. I hope my enthusiasm and dedication to this trade will be an asset to the organization, and I look forward to working with other members (if elected) to propel our group into the next step.
Dawna Bicknell Tanner
Blue Bear Farm
568 Lewis Road
Cairo, GA 39828
850.212.5816
dgbicknell@yahoo.com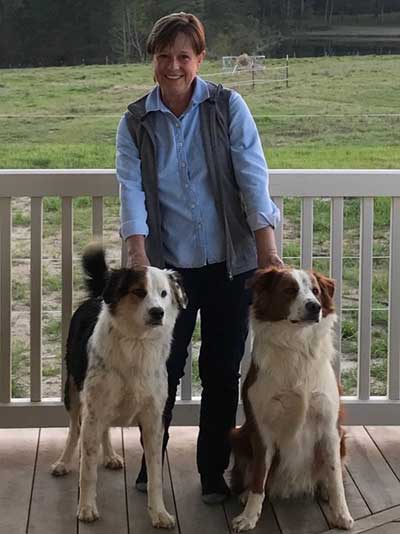 Having been told that all levels of experience are valued and that I don't have to be "an old hand at Devons to make a contribution," I agreed to be nominated for the honor of serving on the Red Devon USA Board. I joined Red Devon USA in 2013.
How many of you have attended four annual Devon conferences without owning a single cow? I have. The expression "big hat, no cows" was, I expect, intended for folks like us. Yet, this past January our mentor and friend, Jeff Moore, agreed we were ready and delivered our first animals to begin our herd. Late the next day, an enthusiastic welcome by our "herding" dogs sent our dazed cattle on an overnight walk-about through our woods and into our neighbors' pasture. Thankfully, all turned out well and our small, but expanding herd has settled in and is now happily rotating through the grasses in our south Georgia pastures.
I am a 1978 graduate of Florida State University with a B.A. in Humanities. Throughout my 34 years of employment, I served as a program and staff director for The Florida Bar and worked directly with boards and committees made up of lawyer volunteers. I also served on committees related to matters of accreditation. Rule and policy drafting, budget preparation, publications, meetings and promotion is familiar territory to me and perhaps I can apply those skills for Red Devon USA.
I like to think that cattle ranching in my family skipped a generation. Many might say it skipped two, but I believe my time has finally come. My grandfather will always be my inspiration, but our methods will be quite different from his. My husband, Mike Tanner, and I are dedicated to expanding and preserving the Devon breed, rejuvenating our soil, restoring our grasses, and producing quality beef in a deliberately natural way. I am new to this venture, but my passion runs deep and I would consider it a privilege to serve on our board.
Thank you.
Dawna Bicknell Tanner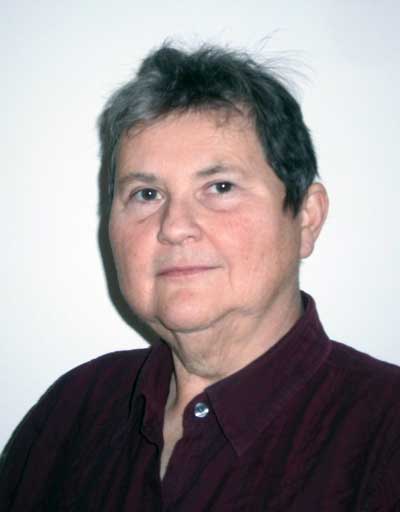 It is hard to believe that it has been three years since I was elected to the RDUSA board of directors. It has been an honor to serve the organization and it has been a very educational and rewarding experience.
Over the past three years I have produced a brief history of the Devon breed for inclusion in the breeder handbook, reviewed and scanned some of the "Devon Quarterly" journals that spanned four decades from the 1940s-1990s. Some of those have appeared in the Devon USA magazine in the past few issues.
I have worked on promotional activities for the organization along with board members David Fell and Christian Ramsburg and volunteer Dawna Bicknell. We have explored additional print media sources for advertising as well as social media and digital alternative methods to both communicate events and news of interest to members more rapidly and to expand our outreach to potential Devon buyers and breeders. We will soon have available for purchase a variety of promotional items for sale at RDUSA events and on the RDUSA website.
If reelected, I would like to continue my work in organizing, preserving and disseminating the historical record of Devons in America and perhaps write more historical articles of interest for the magazine and the website.
I would also like to see us continue the process we have begun to expand promotional activities including experimenting with regional advertising, working in partnership with regional Devon breeders to include advertising and articles in more local sources such as state beef producer organizations.
But looking at the organization from a more universal perspective I think that there are some major challenges facing the organization in the next few years that must be addressed if we are to grow and prosper as an organization and effectively promote the Devon breed.
Our number one obligation is to maintain a breed herd book and to provide the membership with fast, and accurate registration and transfer of cattle. We have struggled with that as we sought to maintain stability at the same time we are seeking out alternatives to what has not always been a smooth running relationship with CLRC, the registry that maintains our herd book and services our members. I believe we will soon be coming to a decision about how to proceed and it will be a challenge to make that transfer while insuring the integrity of the herd book.
Our second challenge is financial. We have had some very memorable annual meetings and shows and sales in the past several years, but we cannot afford to continue on that same scale in the near future. We must scale back on that annual event while still abiding by RDUSA by-law requirements to hold an annual meeting. I also believe it is important to provide our members and potential members with an enjoyable and meaningful networking experience.
Finally, for those who do not know me, I have a 70 acre farm in the Finger Lakes of upstate New York where my partner Karel Titus and I have been farming for the past forty years. We have been raising Devon cattle since 1989 and currently have a herd of 20-25 cows. We sell breeding stock and feeder calves in an all grass program and have been using intensive rotational grazing on our farm since 1980. We raise Devons because they are enjoyable to work with as are the Devon people we have had the pleasure and privilege to meet and work with over the past several decades. If the membership should elect me to another term, it would be an honor to serve.
Anne M. Derousie
George Kepple
Kittanning Hollow Farm, home of the Keystone Devons
309 Kittanning Hollow Rd.
East Brady, Pennsylvania 16028
United States
724-526-3350
http://www.keystonedevons.com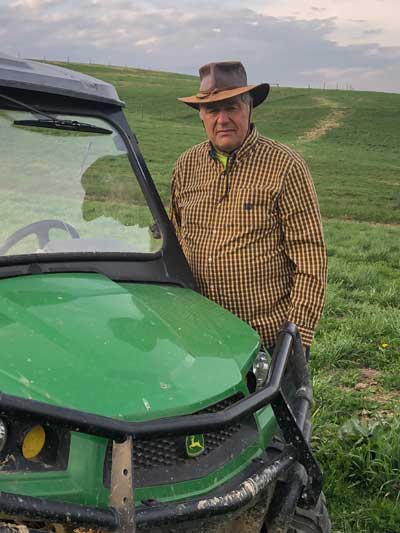 George Kepple is the owner-operator of Kittanning Hollow Farm, a Pennsylvania Century Farm nestled in the foothills of the Allegheny Mountains 50 miles northeast of Pittsburgh. He has owned Devons since 2003. His is a typical, small western Pennsylvania farm that formerly produced milk for the dairy industry. His 30-cow herd is known as Keystone Devons. Semen from one of his former bulls, Keystone Daniel, is currently available through Lakota Ranch. George routinely assigns one or more of his best bulls to the Lakota Bull test. Otherwise, he sells seed stock to grass fed beef farmers. The World Devon Congress tour this year will be stopping at Kittanning Hollow Farm for an evening meal and a view of the Keystone Devons on May 24. "I am concerned that the little guy might get squeezed out of the Devon business", Kepple said in accepting the nomination for the Red Devon USA Board of Directors.
Scott Brady
Scott Brady Red Devon
Premier Auctions & Real Estate
Broker/Owner/Auctioneer
1260 N. Bunyan Rd.
Susanville, CA. 96130
C: 623-628-8009
P: 530-257-9106
BRE# 01913991
scottbrady91@gmail.com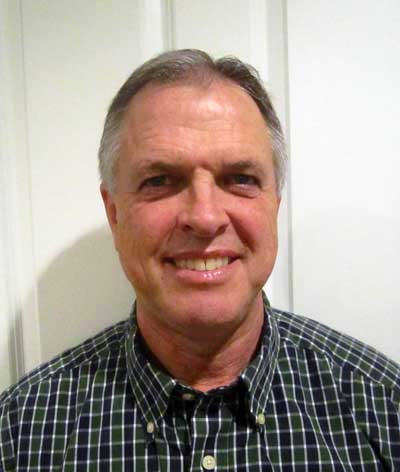 I'm Scott Brady, from Susanville, California, in the northern part of the state. Susanville is 90 miles north of Reno, Nevada on the eastern side of the Sierra Nevada mountains. The area is often referred to as "high desert", receiving approximately 7-10" of precipitation yearly. (in a good year) We live in a valley surrounded by beautiful mountains. Lumber and cattle were the main industry here for decades and agriculture continues to contribute significantly to the economy.
I've had a great interest in cattle since I was a young child, purchasing my first steer when I was 10 years old. I got more serious about raising beef cattle and more specifically registered Charolais, when I was 16 years old. I bought a heifer, then a cow/calf pair, a bull and shortly after another heifer. I had registered Charolais for 42 years, in eastern Oregon, until I had to sell my small herd in 2011.
In 2010, I purchased a "mini Jersey" heifer calf and have raised a few "mini/mid" sized Jerseys. My original heifer, grew too tall to meet the height requirement of "mini", so she is considered a "mid sized" Jersey. I have raised five calves from her and have retained two heifers at this point. When getting started with the "mini Jerseys", I became very interested in the "grass fed" industry. What I read about the health benefits of "grass fed" food and the good the soil can receive from such practices, made a lot of sense to me. In my reading, I came across the Red Devon breed of cattle.
The breed intrigued me for their ability to gain weight and fatten on grass, not to mention they are beautiful cattle. They seemed like a great fit for "grass fed/grass finished" beef. I discovered as a breed, they have a great disposition, are docile and easy to be around and work with. Over the course of four years of learning about the breed, and seeing Red Devon on a few farms I visited back east, in 2015 I went to my first Red Devon event at Daniel Marquardt's farm, Hillside Pastures, sponsored by the Mid West Breeders. I met very nice and welcoming Red Devon breeders, learned even more, and bought my first Red Devon; a very nice, high quality cow/calf pair. Since that time, I've had that cow flushed, raised more natural calves from her and purchased another quality cow/calf pair. My herd is growing and I'm very pleased with the quality of cattle I've chosen. My goal is to continue to raise high quality breeding stock and develop a niche in my area for "grass fed/grass finished" beef.
My purpose in running for the board of directors, is to help the breed grow, assist breeders in their pursuits to raise quality cattle, and help expand the exposure of the Red Devon breed. As breeders and as a breed, there is always room for improvement and growth. I see great opportunity for improvement, growth, and efficiencies to help breeders register their cattle, improve the quality of cattle we raise, and enjoy raising Red Devon. I will be happy to assist in any way possible to contribute to the growth of the breed and our association.
Scott Brady