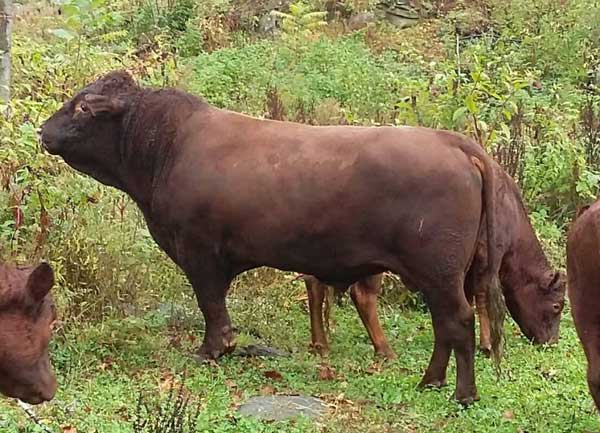 Chimney Hill Farm is located in north central Massachusetts.  The 700+ acre farm has been owned by the Hall family since 1910.  Michelle (Shelley) Knapp, who took over managing the farm in 2000, is third generation caretaker of the property  Her family has been caring for the farm for 68 years.
For many years, the farm's only livestock were a small number of horses.  In the late 1990's, Bob Hall, his brother, Brinley, and other family members decided they wanted to reclaim the pastureland.  Bob did much research and concluded that the Devon breed, with their hardiness and docile temperaments could help with the task. 
In 2001, we purchased our first Devons from Devon Lane Farm in Belchertown, MA.  We started with with four polled, registered Devons who were sired by Lakotas G24.  The dams were Plum Nearly Farm's girls.  Jane and Betsy are no longer with us.  They lived and calved until age 16 and 17 respectively.  Annie turned 18 in January and Alice will be 18 in March of 2018.  Both calved in 2017 and are currently bred. 
We currently have 33 head that are descendants of these four girls and have recently added one of Keystone God's daughters.  Our sires have included:  Fox Hill's Donald (out of Grantland Guard L11 and Lakota's Dotie E31L), Lakota S62 of Buckeye, EVF Jake W5, Henderson King W05, EVF Roscoe W3  (the last two are descendants of Page Road Pete).  We are happy to announce our newest herd sire (pictured at 2 years old):  UTLEY,S LAKOTA CROOKED FRANK!  We are excited to see the influence he will have on our herd.  
Our herd is 100% grass-fed and finish nicely on grass alone.  Our average two year old produces a nice yield with nice fat and marbling and hangs around 600lbs.
We have thoroughly enjoyed working alongside this docile breed, and through Managed Intensive Grazing have currently reclaimed approximately 20+ acres of pastureland.  These Devon's are easy birthers and have amazing mothering instinct.  They possess longevity and are very hardy.  They have no problem maintaining their condition in spite of our fickle New England weather.
What We Offer –
Registered breeding stock (Bulls, Heifers, Cows)
Grass fed beef
We sell 100% grass fed/finished beef by the 1/4, 1/2 or whole animal.
We sell feeder and finished cattle on the hoof.
On occasion, we may have individual cuts available.